CDS™ Programmer
Installer Programming Tool for:
Morsonic-II™, IRCDS-HSD-II™ & MDSµP-II-NB™
Use is detailed in the product set up instructions.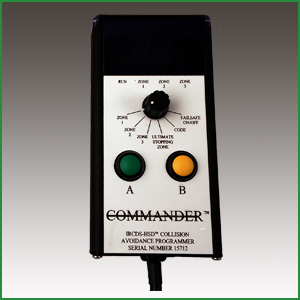 The CDS™ Programmer is a universal device for all three COMMANDER™ Horizontal Detection Systems. The device can be purchased with a set of 3 labels as each product has different set up options. The device is only normally provided with a plug in Data cable for connection to a provisioned serial port on the detection system.
The set up procedure for application must take into account the stopping (braking) distance of the gantry crane. The setting of the speed zones are also important as these will reduce to inertia of the structure as speed decreases so if in the even the crane travel brakes are poorly maintained or set or require setting, any over-run will be minimal as will be any low speed collision.
During setting the device displays (mimic's) product diagnostic/status indicators.
A 5M cable is provided so that the system can be set from the ground for safety reasons. A Data cable extension is available.