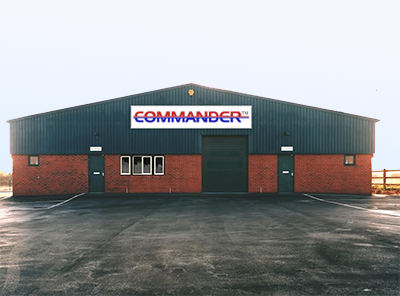 About Us:
Commander Controls Limited is a UK based company formed on 26th November 1993. On 1st November 1995, the businesses of two associate companies, World Wide Technical Marketing Limited, operating since 1990, and Crane Safety Products Limited, formed in 1992, were merged with Commander Controls Limited. On 26th September 1996, the reformed company relocated all operations to a new purpose built development in order to centralise all design, development, production, sales and administration functions.
Products:
COMMANDER™ specialises in the design, development and manufacture of electronic industrial control systems for high integrity lifting operations which include Infra-Red and Radio remote control and Collision Avoidance (Detection) Systems. As well as a standard range of products and system options and features, systems can be customised for specific control applications. COMMANDER™ remote control and collision avoidance systems are software driven which means a very high level of integrity and product security whilst at the same time minimises considerably the hardware required (components) for the signal processing and interface. The prime data communication mediums are infra-red, radio, ultrasonic and microwave.
Applications:
Product applications include material handling plant such as overhead factory cranes, power station cranes, process cranes (including nuclear industry), tower cranes, dockside and container cranes, hoist & access equipment, forestry/logging winches, vehicle recovery winches, and any other electrically powered equipment requiring remote control for safety, convenience or economy reasons.
Standards:
All COMMANDER™ products are as a minimum designed and manufactured to ISO 9001-2000 (incorporating EU Standards) and are justifiably CE marked. Other demanding standards such as Defence Standards and the Nuclear Inspectorate are also used for specific client contracts. In addition, various compliances for USA, Canada, Australia etc are also complied with.
World-Wide Users:
COMMANDER™ products are shipped world-wide to customers in very diverse industries including but not limited to the aerospace industry, deep space exploration facilities, aircraft mainframe & wing production, aircraft engine assembly and test, military vehicles and for counter measures, steel industry production and distribution, aluminium smelters and processing plants, motor manufacturing, docks, engineering, foundries, forestry/logging, construction, power generation, film studios, robotics in industry and entertainment, etc., and for applications as diverse as 300 tonne steel plant ladle cranes to 150 tonne nuclear flask carriers, ship loaders, security access, potato picking machines, recovery vehicles, robotics for film makers to operate extinct Jurassic life size creatures (models of course)!